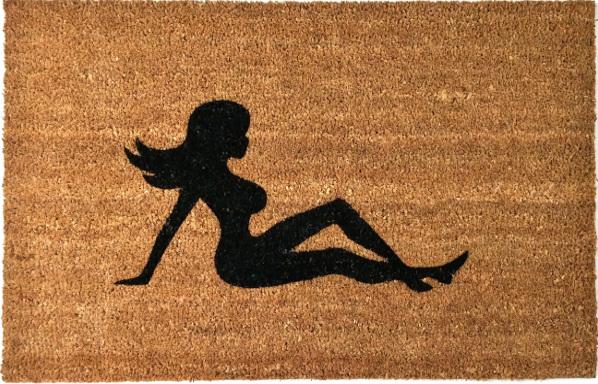 Cocomatsnmore
Vinyl Back Trucker Mud Flap Girl Coir Doormat-OLD
Vinyl Back Trucker Mud Flap Girl Coir Doormat
This modeling silhouette is seen just about everywhere! We have seen her modeling in windows, on mudflaps of Trucks and even as tattoos. So we decided to ask her to model for us on a doormat and she gladly accepted.
Here is your chance to have your very own "Trucker Girl" Modeling at your front (or back) door to greet you in. Or if you know a friend that would like it, this mat would make a great gift.
Created on a Vinyl Rubber backing that provides extra grip to help keep it securely in place.
The vinyl backed coco mats are stain rot and mildew resistant, and thus can be used in slightly wet conditions.
Easy to clean by simply brushing, vacuuming or giving it a quick shake.
Sizes available: 18" x 30" and 22" x 36"
All sizes are 5/8" thick and are "low profile"
Please allow a one week lead time for the production of these mats.
For more information please call - 866-561-1921 or email us at sales@cocomatsnmore.com
---
Share this Product