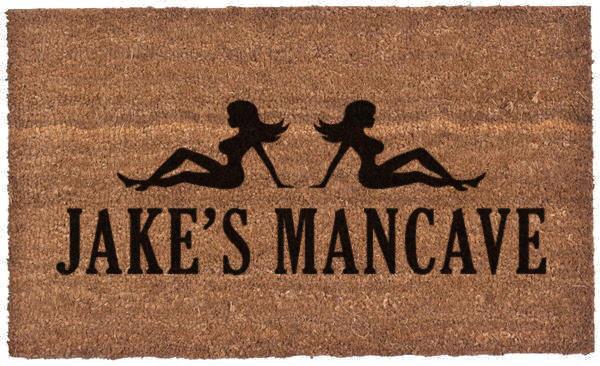 Cocomatsnmore
Vinyl Back Trucker Girl Personalized Coir Doormat-OLD
Vinyl Back Trucker Girl Personalized Coir Doormat
Do you like the "Trucker Girl" Silhouette?
How about if there was two of them modeling over your very own personalization?
Let these silhouette models give your personalized doormat a whole new (and very interesting) look. These two "Trucker Girls" sit back to back while modeling your personalization, and you have to admit, they definitely make this personalization look good. We are sure they would make yours look good too.

Created on a Vinyl Rubber backing that provides extra grip to help keep it securely in place.
The vinyl backed coco mats are stain rot and mildew resistant, and thus can be used in slightly wet conditions.
Easy to clean by simply brushing, vacuuming or giving it a quick shake.
Sizes available: 18" x 30" and 22" x 36"
All sizes are 5/8" thick and are "low profile"
Please Note:
Default Font for all mats is "Georgia" if character limit is accurate.
If character limit is exceeded the font will be condensed.
Character Limits:
18" x 30" has a 10 Character Limit.
22" x 36" has a 13 Character Limit.
NOTE: Characters include any numbers, letters, punctuation as well as spaces.
Please allow a one week lead time for the production of these mats.
For more information please call - 866-561-1921 or email us at sales@cocomatsnmore.com
---
Share this Product