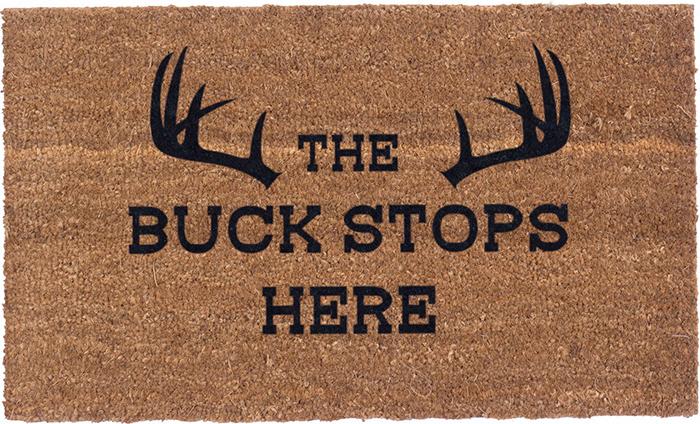 Cocomatsnmore
Vinyl Back - The Buck Stops Here - Coir Doormat
The buck stops here!! And so does the dirt! Lay claim to your home with this amazing doormat that is designed to not just look pretty, but keep that pesky dirt outside your house!


"The Buck Stops Here" coir entryway mats are made with premium oir fibres embedded into a vinyl backing.


The sturdy vinyl backing gives the 'Buck Stops Here' doormat extra anti-slip benefits with minimized mat slippage.


As the coir fibers are tightly embedded into the backing, there is comparatively less fibre shedding.


Doormats are made resilient, sturdy and weather-proof and are rot, mildew and stain resistant perfect for outdoor use.


The bristle nature of coir is ideal to scrape away dirt and debris from under shoes.


The design is stencil printed with biodegradable spray dye. The dye goes deep into the fibres for an eco-friendly, longer lasting and fade resistant doormat.


"The Buck Stops Here" Doormat is available in a size 18" x 30".


Thickness of doormat is a low profile 5/8" - perfect for low clearance doorways, prevents tripping or getting the door caught on the mat.


Easy to clean - just give it a good shake or run down with a vacuum.


These coir door mats are sustainable, eco-friendly, long lasting, and very affordable.


---
Share this Product