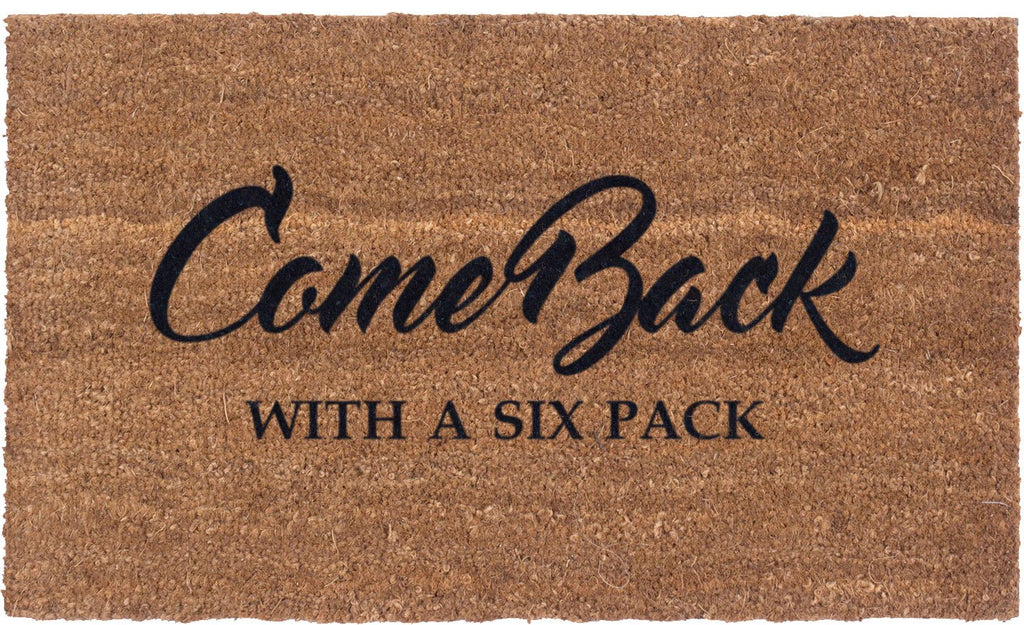 Cocomatsnmore
Vinyl Back - Six Pack - Coir Doormat
Calling all beer lovers - beer will not be the only thing you will love once you set your eyes on this beauty of a doormat! The "Come Back with a Six Pack" gently coaxes your fellow beer drinkers to come by to your humble abode bearing cold frothy gifts.. the kind of gifts you fellows can bond over! Unless, this doormat is talking about your abs... hmmm... we think the six pack of the beer variety is more suited!

Our mats are not just pretty to look at, but come loaded with their very own six packs. Looking at a few doormat benefits.
Impress your father this year and get it just in time. Order before 2 PM EST on Tuesday the 14th of June to receive it before Father's day.


"Six Pack" coco doormat is made with premium oir fibres embedded into a vinyl backing. As they are tightly embedded into the backing, there is comparatively less coir fibre shedding.


Due to the sturdy vinyl backing, Six Pack Doormat has extra anti-slip benefits with reduced mat slippage.



These funny doormats are resilient, sturdy and weather-proof; resistant to rot, mildew and stains and perfect for outdoor use.



The tough texture of coir efficiently scrapes away dirt and debris from under shoes.


The design is stencil printed with biodegradable spray dye onto the mat. The dye goes deep into the coir fibres of the mat giving you an eco-friendly, longer lasting and fade resistant doormat.


"Six Pack" Doormat is available in a 18" x 30" size.


Comes in a low profile 5/8" thickness - perfect for low clearance doorways, prevents tripping or getting the door caught on the mat.


Easy to clean - just give it a good shake or run down with a vacuum.


These coir door mats are sustainable, eco-friendly, long lasting, and very affordable.


---
Share this Product