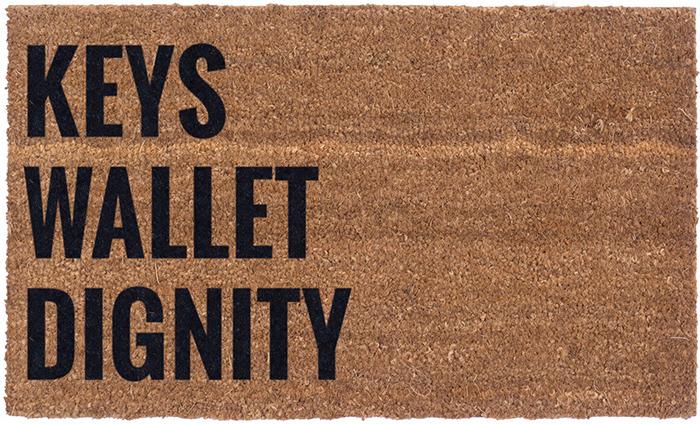 Cocomatsnmore
Vinyl Back - Keys Wallet Dignity - Coir Doormat
"Keys Wallet Dignity" Coir Doormat is the perfect check-list at the door for all you gentlemen - never step out of the house without your three essential items! But, not just a check-list on the way out.. this essential doormat is also your check-list when you get back home.. just so you are sure you haven't lost any of the three during the day!


"Keys Wallet Dignity" coir doormat is made with top quality coir fibres embedded into a durable vinyl backing.


The vinyl backing gives the "Keys Wallet Dignity" doormat anti-slip benefit and makes it prone to lesser mat movement.


Made for outdoor use, doormat is sturdy and weather-proof, resistant to rot, mildew and stains.


There is less shedding as the coir fibers are tightly embedded into the vinyl backing.


Scratchy coir surface makes it effective as a scraper - removes dirt and debris from under shoes.


The design is stencil printed with biodegradable dye. The spray dye goes deep into the mat fibres for a fade resistant doormat.


"Keys Wallet Dignity" Doormat is available in a size 18" x 30".


Comes in a 5/8" thickness - a low profile thickness ideal for low clearance entryways.


Easy to clean with a quick shake or quick run down with a vacuum.


The doormat is made sustainably, is eco-friendly, long lasting, and affordable.


---
Share this Product