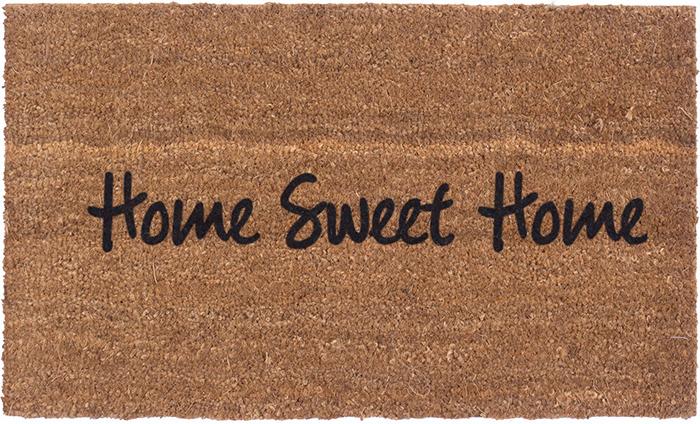 Cocomatsnmore
Vinyl Back - Home Sweet Home - Coir Doormat
Ahhh! Home.. Sweet home! That place where you can kick off your shoes, put up your feet, relax and just plain be comfortable! Why not then adorn this sweet home with an equally sweet doormat. "Home Sweet Home" Coir Doormat serves as a reminder to everyone that they are about to enter your home - the one place you always want to be!


"Home Sweet Home" coco mat has sustainably produced coir fibres embedded into a vinyl backing.


The vinyl backing makes the "

Home Sweet Home

" doormat

skid-free.



Designed for outdoor use, this coir doormat is sturdy and weather-proof, resistant to rot, mildew and stains.


As the coir fibers are tightly embedded into the vinyl backing there is lesser fiber shedding.


Scratchy coir makes for efficient dirt scrapers - whisks away dirt and debris from under shoes.


The design is stencil printed with biodegradable and fade resistant dye, for a longer lasting and fade resistant doormat.


"Home Sweet Home" Doormat is available in a size 18" x 30".


Comes in a 5/8" thickness - a low profile thickness ideal for low clearance entryways.


Easy to clean with a quick shake or quick run down with a vacuum.


---
Share this Product