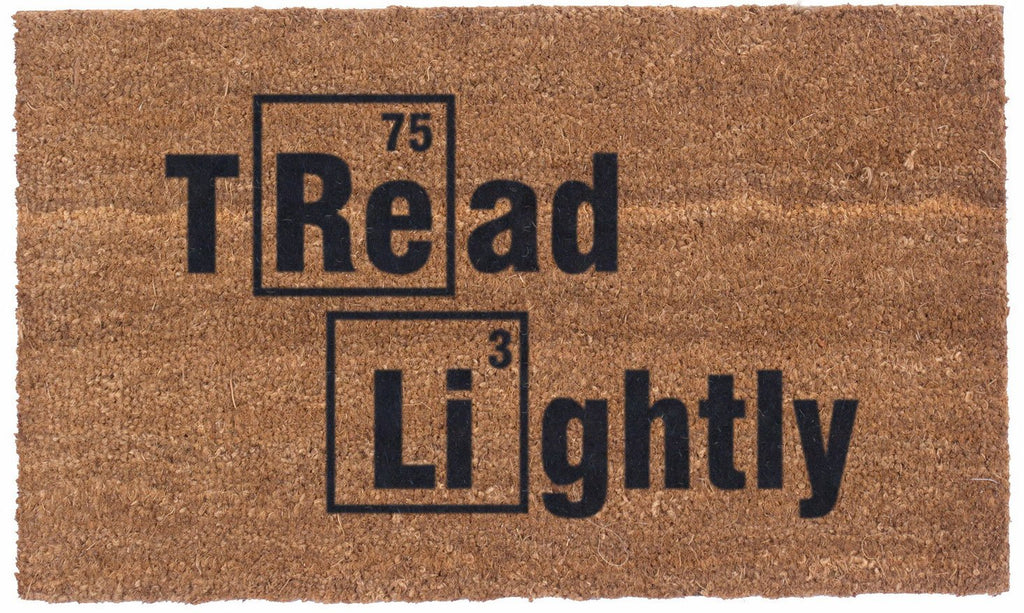 Cocomatsnmore
Tread Lightly - Vinyl Backed Coco Doormat
Our take on the popular saying, the Tread Lightly doormats warn anyone at your doorstep that you are not to be messed with.
Part of our pop culture themed mats, these doormats feature a unique periodic table design that is sure to spark up a conversation at your doorstep.


Tread Lightly Coco Doormats are made sturdy and eco-friendly with coir fibres inserted into a vinyl backing.


Durable and weather resistant, this Fourth of July doormat is perfect for outdoor use.


As coir is tightly inserted into its vinyl backing, this doormat sheds less fiber when compared to traditional mats.


Coco doormats are slip-resistant and will not curl up because of their sturdy vinyl backing.


Strong and tough, these doormats are resistant to rot, mildew and stains.


Rough nature of coir makes the doormat an ideal dirt scraper for clean shoes and protected floors and carpets.


Sharp, clear writing is stencil printed with a biodegradable spray dye making them eco-friendly.


Specially formulated color dye goes deep into the coir fibres for a long-lasting and fade resistant doormat.


Available in an 18" x 30" size and 5/8" thickness. This Doormat is low profile and ideal for doorways with a low clearance.


Easy to clean - just give it a good shake or run down with a vacuum.


---
Share this Product