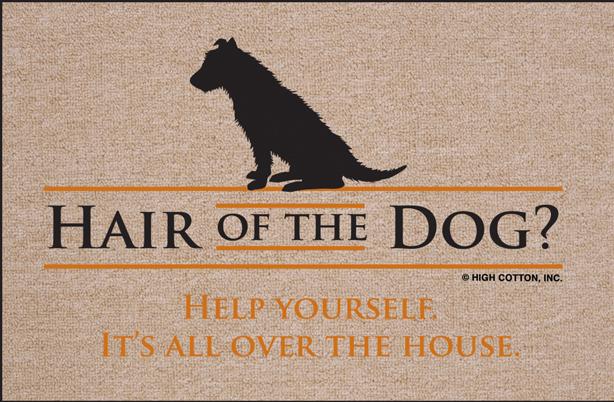 HighCotton
Hair of the Dog Olefin Doormat
You always wonder, in those old witches spells that have ingredients like "eye of the newt" and "hair of the dog", where they got those ingredients. Did they just pop over to Ye Olde Creepy Witch Spell Supplies? Or could you find them standing waist deep in the swamp, attempting to catch newts, and sneaking around town, shaving dogs to fill their demand for hair (we can date the emergence of the poodle back to these times). For our modern day witches, we have a better solution.With our "Hair of the Dog" mat, invite in your friendly neighbourhood witches to grab some of the excess dog hair you have floating around? at this rate, you have enough to open a Ye Olde Creepy Witch Spell Superstore.
Each mat is made from 100% Olefin indoor/outdoor carpet with perfect bound stitched edges.Olefin is a great choice for outdoors and damp basements as its fiber dries quickly when wet, and is not prone to mold or mildew as a result of the moisture. Additionally, being solution-dyed makes the fiber extremely fade-resistant and stain resistant, so exposure to sunlight, ultraviolet rays and spills will not permanently discolor the carpet.

Specifications
| | |
| --- | --- |
| Material | Olefin |
| Backing | None |
| Base Color | Off White |
| Print/Accent Color | Black, yellow |
| Size | 18" x 27" |
Maintenance
To clean, just wet with a hose and scrub it with a brush (please do not machine wash). Dry flat.

---
Share this Product