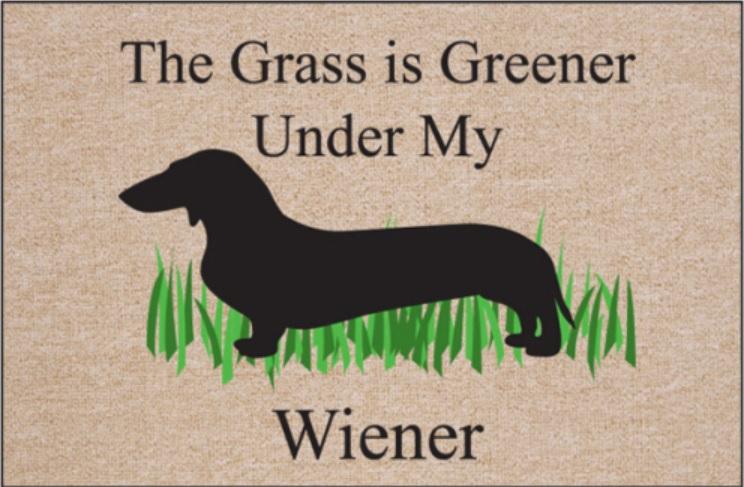 HighCotton
Greener Wiener Olefin Doormat
So you own a dachshund who has managed to charm you with its sausage shape, funny face, and short-limbed waddle. Now you think the sun rises and ends with your dog, but your friends just see another dog--a funny looking, squat one at that. Waste no words explaining your feelings to these uninitiated bumpkins. Instead, use this doormat to say what you exactly feel, exactly. You are pretty sure the doormat was designed by a wiener owner. Oh the feeling of kinship!
Each mat is made from 100% Olefin indoor/outdoor carpet with perfect bound stitched edges. Olefin is a great choice for outdoors and damp basements as its fiber dries quickly when wet, and is not prone to mold or mildew as a result of the moisture. Additionally, being solution-dyed makes the fiber extremely fade-resistant and stain resistant, so exposure to sunlight, ultraviolet rays and spills will not permanently discolor the carpet.

Specifications
| | |
| --- | --- |
| Material | Olefin |
| Backing | None |
| Base Color | Off White |
| Print/Accent Color | Black, green |
| Size | 18" x 27" |
Maintenance
To clean, just wet with a hose and scrub it with a brush (please do not machine wash). Dry flat.

---
Share this Product