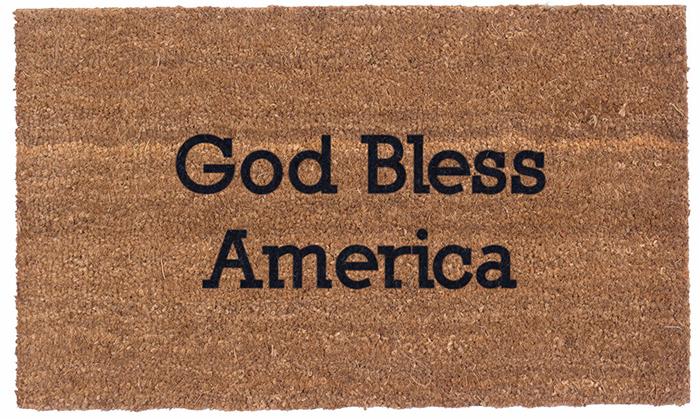 Cocomatsnmore
God Bless America - Vinyl Backed Coco Mats
Show your love and devotion for the country with a patriotic 4th of July doormat. And, our "God Bless America" Vinyl Back Coir Doormat is just the perfect doormat for you! A natural, charming and rustic looking doormat that is simple yet full of feeling - God Bless America Coir Doormat will greet your guests at the front door and complete your patriotic decor!


God Bless America Coir Doormat is sturdy, eco-friendly and made from natural coir fibres inserted into weather-proof vinyl backing.


Durable and weather resistant, your patriotic doormat is perfect for outdoor use.


As the coir fibres are tightly embedded into its vinyl backing, this doormat sheds lesser as compared to traditional mats.


God Bless America doormat is skid-resistant and does not curl up because of its vinyl backing.


Resilient and tough, these doormats are rot, mildew and stain resistant.


Unique nature of coir makes this doormat the perfect shoe and dirt scraper for clean and protected floors and carpets.


Sharp, clear design is stencil printed with a biodegradable spray dye making them eco-friendly.


Specially formulated color dye goes deep into the coir fibres for a long-lasting and fade resistant doormat.


Available in an 18" x 30" size and 5/8" thickness. God Bless America Doormat is low profile and great for doorways with a low clearance.


Easy to clean - just give it a good shake or run down with a vacuum.


---
Share this Product