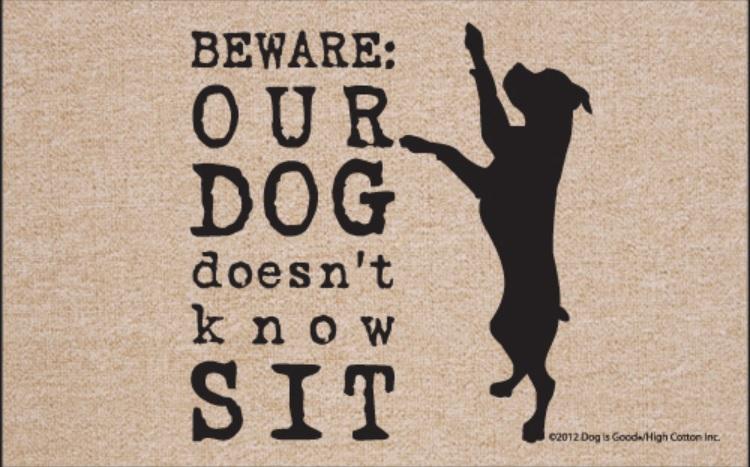 HighCotton
FUNNY DOORMAT - DOG DOESN'T KNOW SIT ** DISCONTINUED**
Beware! You have been warned!
You might as well be upfront, right at the door, than having your poor guests running back out screaming for dear life! This is the least you can do for you two legged friends, coz, your four legged friend loves to jump on anything that moves.
We at Coco Mats N More suggest you try a bit of reverse phsychology.. you know.. try telling your dear dog to 'JUMP' instead of 'SIT' and maybe, just maybe, he may listen? It sure looks like he is mistaking the 'SIT' to actually mean that he can jump on everything that moves.. NO?? Really??? Is not so? Well we tried...
Ok then, go ahead and put this warning message out front and let those unfortunate souls know that once they cross the threshold they best be hanging on for their dear lives!
These warning labels.. (we mean the mat ofcourse) is made from 100% Olefin indoor/outdoor carpet with perfect bound stitched edges.
To clean, just wet with a hose and scrub it with a brush (please do not machine wash). Dry flat.
Mats come in 18" x 27" size, weigh 1.3 lbs and has a lead time of 3 - 5 days
---
Share this Product