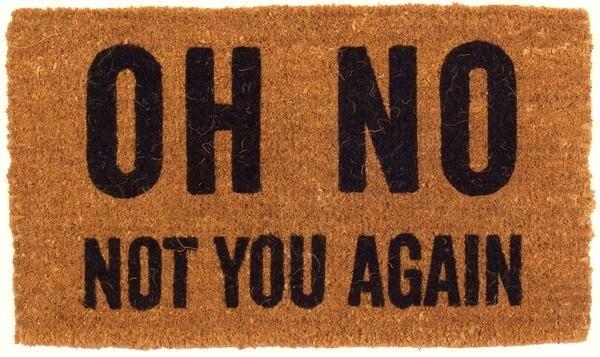 AD-Mats
Oh No Not You Again Vinyl Coir Doormat
Description
Oh no. It's the neighbor again. The one who always comes over at the most inconvenient times and talks to you for hours on end about the "most thrilling fishing expedition the other week!" Then finally end the conversation by asking to borrow something (and you still haven't seen that hammer they needed to use for "just a sec" back in 1996).Push social norms aside and show your true feeling with our "Oh No! Not You Again!" mat. (As for the borrowing issue, perhaps "using" their new Porsche "just for a sec" will teach them a lesson).
The Eco-friendly and natural alternative to your doormat, these mats provide a rich aesthetic to any building or home. Coco entrance mats are made by embedding natural coconut husk fiber into a vinyl backing.
These fibers area  bi-product of the coconut harvesting industry, making the production of these mats highly sustainable, and the mats themselves a perfect complement to your environmentally conscious building or home.
Coir Fiber are a proven scrapper that is highly effective at brushing away dirt and debris from the bottom of shoes to ensure a clean and safe floor inside. This coco fiber is also one of the most absorbent natural fibers available, making it highly effective at keeping the moisture off your floors.
Specifications
| | |
| --- | --- |
| Material | Coir |
| Backing | Vinyl |
| Base Color | Natural Coco |
| Print/Accent Color | Black |
| Thickness | N/A |
| Size | 18" by 30" |
Maintenance
Eco-friendly and sustainably made.
Hand stenciled with fade-resistant dyes that can resist all weather conditions.
The tough coir fibers will scrape off dirt and mud from shoes, trapping it before tracking indoors.
Are very easy to clean and maintain - simply vacuum, hose down or shake off to keep them clean.
---
Share this Product