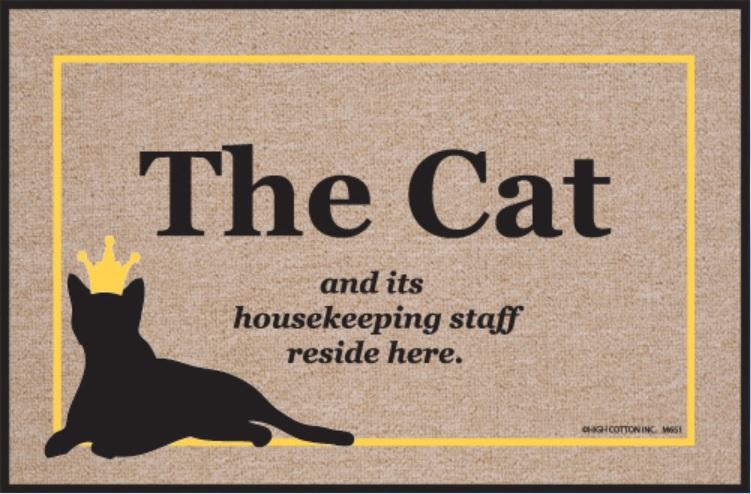 HighCotton
Cat and Housekeeping Staff Olefin Doormat
You know her as 'Her Royal Highness' Mademoiselle Chat. She likes French. The house is her queendom and you are just her glorified lackey who she deemed necessary to her living. Face it - she doesn't listen to you, looks right through you, only comes to you when she is hungry or when she wants her back scratched. You are her housekeeping staff. Did you know that before we spelled it out?
Each mat is made from 100% Olefin indoor/outdoor carpet with perfect bound stitched edges.Olefin is a great choice for outdoors and damp basements as its fiber dries quickly when wet, and is not prone to mold or mildew as a result of the moisture. Additionally, being solution-dyed makes the fiber extremely fade-resistant and stain resistant, so exposure to sunlight, ultraviolet rays and spills will not permanently discolor the carpet.

Specifications
| | |
| --- | --- |
| Material | Olefin |
| Backing | None |
| Base Color | Off White |
| Print/Accent Color | Black, yellow |
| Size | 18" x 27" |
Maintenance
To clean, just wet with a hose and scrub it with a brush (please do not machine wash). Dry flat.

---
Share this Product