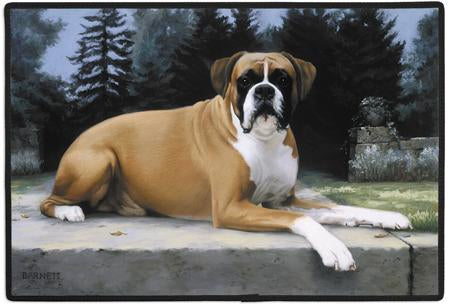 Fiddler's Elbow
Boxer Polyester Doormat
Doesn't this fellow look quite regal? Showcase your love for your pet Boxer with this Doormat; and on the plus side you get to own an original artwork by Barrie Barnett!
This Boxer sitting on a pathway will not only make a lovely home accent but, we bet, that this entrance doormat will make a lovely welcome mat to greet all your friends and family. And since we believe in the act of sharing, this doormat will be perfect as a gift for all the dog lovers you know! We are quite confident they will love you for it.
Polyester mats are popular and affordable. Thee mats have a 100% polyester face and a rubber backing.
They come in a wide range of colours and textures and are easy to print on. The doormat is permanently dye printed & fade resistant for long lasting use. Polyester is a non-allergenic material that resists moisture.
It is an excellent weatherproof doormat, resistant to mildew, perspiration, rot, and weather wear.
This elegant and high-quality Polypropylene Mat will not only remove dirt, debris and moisture from under shoes but will also... protect indoor floors and carpets and welcome your guests in style!
Simple, stylish and with a tufted surface design, the Polyester Mat will add a contemporary twist to your home décor.
Specifications
| | |
| --- | --- |
| Material | Polyester |
| Backing | Rubber |
| Base Color | N/A |
| Print/Accent Color | N/A |
| Edging | Polypropylene Web Trim |
| Size | 18" by 27" |
Maintenance
Strong and tough, these doormats are resistant to rot, mildew and stains.


Are very easy to clean and maintain - simply vacuum, hose down or shake off to keep them clean.
---
Share this Product