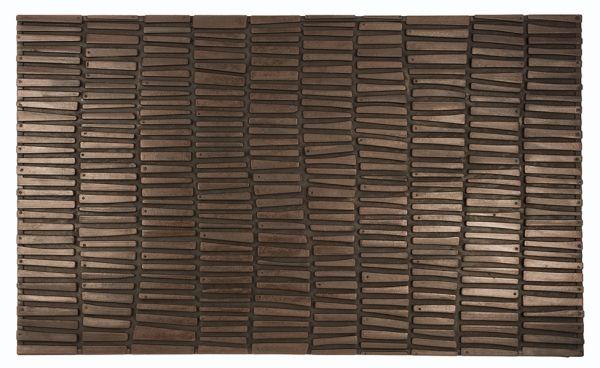 Entryways
Wood Wall Recycled Rubber Doormat
If you love all things rustic and eco-friendly, the durable Wood Wall Recycled Rubber Doormat will be a surprise and a delight.
Nice looking wood mat, right? Wrong! This doormat is made from recycled rubber. Yeah, the wood design imprint looks realistic enough to fool anyone, so don't be hard on yourself. The Wood Wall Recycled Rubber Doormat is reassuringly free of any harm to the environment. The fact that the mat is made from recycled rubber just augments its eco-friendliness. This rustic and rugged mat is great at capturing dirt from shoe soles and is refreshingly easy to clean.
Recycled Mats are great as they are environmentally friendly and made out of 100% recycled rubber products. This Eco-friendly mat with an intricate  pattern is perfect to place at your front door.  This elegant rubber doormat will welcome your guests while brushing the dirt of their shoes to keep your interior clean. 
These recycled rubber mats are is easy to clean and hassle-free to maintain as they trap the dirt and can be easily picked up to clean or brush away the dirt collected with a broom.
Cocomatsnmore has recycled mats made out of rubber and metal. Save the environment with these Eco-friendly mats.
Specifications
| | |
| --- | --- |
| Material | Rubber |
| Backing | Rubber |
| Base Color | Black |
| Print/Accent Color | N/A |
| Thickness | 1/2" |
| Size | 18" by 30" |
Maintenance
Durable and perfect for heavy use.
Rubber molding makes the mat skid-free.
Bleached and stenciled with fade resistant dyes.
---
Share this Product