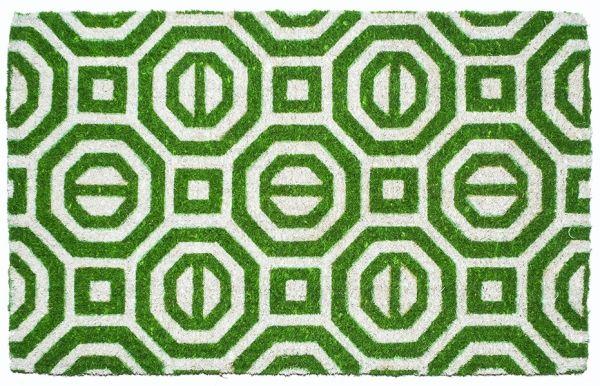 Entryways
Georgian Geo Handwoven Coco Doormat
The Georgian Geo Handwoven Coco Doormat has octagonal fretwork patterns that were popular with the ancient Romans. They were revived in 18th-century English designs and Chinese porcelain and furniture later on. This mat has been inspired by the antique collection at the Colonial Williamsburg Foundation.
"Octagonal fretwork patterns were popular with the ancient Romans and were revived in 18th-century English designs. They were also used on Chinese export porcelains and furniture. This inspired "Georgian Geo" design will demand attention at any doorstep with its bold pattern and fresh color.
The Eco-friendly and natural alternative to your doormat, these mats provide a rich aesthetic to any building or home. Coco entrance mats are made by embedding natural coconut husk fiber into a vinyl backing.
These fibers area  bi-product of the coconut harvesting industry, making the production of these mats highly sustainable, and the mats themselves a perfect complement to your environmentally conscious building or home.
Coir Fiber are a proven scrapper that is highly effective at brushing away dirt and debris from the bottom of shoes to ensure a clean and safe floor inside. This coco fiber is also one of the most absorbent natural fibers available, making it highly effective at keeping the moisture off your floors.
Specifications
| | |
| --- | --- |
| Material | Coir |
| Backing | N/A |
| Base Color | Natural Coco |
| Print/Accent Color | Green, White |
| Thickness | 3/4" |
| Size | 22" by 35" |
Maintenance
Eco-friendly and sustainably made.
Strong and tough, these doormats are resistant to rot, mildew and stains.
Specially formulated color dye goes deep into the coir fibres for a long-lasting and fade resistant doormat.
The tough coir fibers will scrape off dirt and mud from shoes, trapping it before tracking indoors.
Are very easy to clean and maintain - simply vacuum, hose down or shake off to keep them clean.
Your purchase of WILLIAMSBURG products supports the preservation, research, and educational programs of The Colonial Williamsburg Foundation, a not-for-profit organization. Each product is inspired by the Foundation's antique collection or the restored 18th-century town."
© 2016 The Colonial Williamsburg Foundation
---
Share this Product