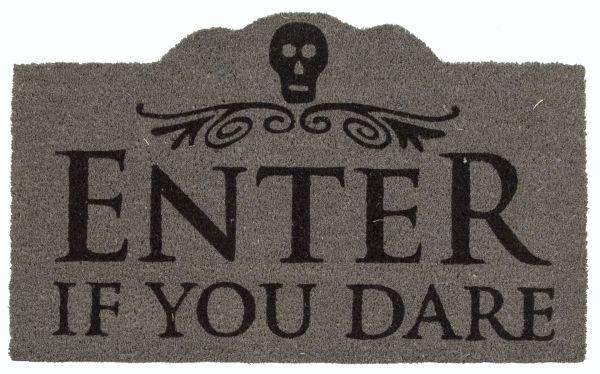 Entryways
Enter If You Dare Vinyl Coir Doormat
*** New Inventory for 6/1/2021 ***
Why wait till Halloween to get macabre on your doorstep? The Enter If You Dare Vinyl Coir Doormat can be trusted to say unsettling things about you...all year round. Shaped, quite appropriately, like the headstone of a tomb, the mat works well for any household where guests will be entering at their own risk. Like you may find this outside the castle entrance at Mordor. There is a good side to the mat, though. It's made from all-natural coir and is, hence, eco-friendly. Also, it has a vinyl back that will provide grip to the mat so it will not slip around causing hilarious falls and slips. Apart from these deviations, the mat is reassuringly dark.
The Eco-friendly and natural alternative to your doormat, these mats provide a rich aesthetic to any building or home. Coco entrance mats are made by embedding natural coconut husk fiber into a vinyl backing.
These fibers area  bi-product of the coconut harvesting industry, making the production of these mats highly sustainable, and the mats themselves a perfect complement to your environmentally conscious building or home.
Coir Fiber are a proven scrapper that is highly effective at brushing away dirt and debris from the bottom of shoes to ensure a clean and safe floor inside. This coco fiber is also one of the most absorbent natural fibers available, making it highly effective at keeping the moisture off your floors.
Specifications
| | |
| --- | --- |
| Material | Coir |
| Backing | Vinyl |
| Base Color | Natural Coco |
| Print/Accent Color | Black, Grey |
| Thickness | 1/2" |
| Size | 17" by 28" |
Maintenance

Coir mats are very easy to clean and maintain - simply vacuum, hose down or shake off to keep them clean.
---
Share this Product