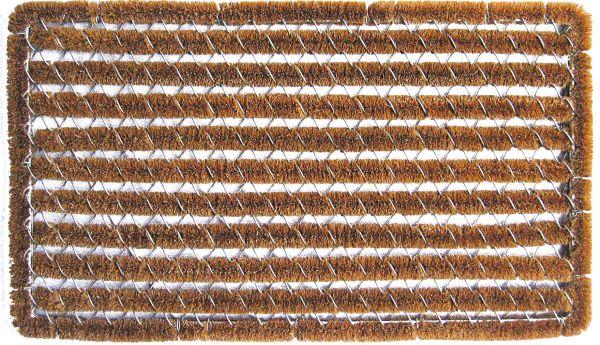 Entryways
Rectangle Stripes Wire Brush Scrapper Mat
If your home sees more mud, dirt, and debris than you would like to clean all by yourself, get a little help. The Rectangular Stripes Wire Brush Bootscraper Doormat would love to help out. The mat is made from wire and all-natural coconut fiber that is a tough bootscraper. It gets dirt and mud off shoe soles at the entrance itself and prevents it all from tracking indoors. The mat is tough and extra stiff, so you know it means business.
With its unique triad face pattern (a group of three triangles) and tough mat construction, the Triad Boot Scraper Mat is a heavy duty scraper that is specifically made to take chunks of dirt and debris off from under shoes.
Use this mat at any place that gets a lot of snow as it is designed to withstand and survive wet areas. The quality of the doormat also ensures a longer product life that will last you a long time.
These mats have superior brushing action which means they will be perfect to clean mud and snow off shoes in households as well as industrial applications. 
Specifications
| | |
| --- | --- |
| Material | Coir |
| Backing | Galvanized Wire |
| Base Color | Natural Coco |
| Print/Accent Color | N/A |
| Thickness | 1" |
| Size | 16" by 27" |
Maintenance
Eco-friendly and sustainably made.
Made in a combination of galvanised wire covered with natural coir fibers.
As natural coir fibers are wrapped around galvanized wire, the Triad Scraper mat is designed to withstand heavy duty brushing.
The tough coir fibers will scrape off dirt and mud from shoes, trapping it before tracking indoors.
Are very easy to clean and maintain - simply vacuum, hose down or shake off to keep them clean.
---
Share this Product